There are a wealth of research opportunities within Kaiser Permanente Hawaii, which boasts an environment with broad clinical collaboration and a culturally diverse patient population. Residents are able to develop research initiatives with partners in the region, while also taking advantage of Kaiser Permanente's extensive national network of experts and resources.
Kaiser Permanente Hawaii has an affiliation with the Kaiser Permanente Center for Health Research, which conducts ground-breaking research in many areas, including chronic disease prevention and epidemiology (diabetes and heart disease), as well as women's and adolescent health, including nutritional and genetic factors.
Residents will have access to the Kaiser Permanente clinical library, which is one of the largest, most complete and most inclusive electronic medical information libraries in the world, with more than 1,500 electronic journals (including The Permanente Journal) and nearly 250 medical textbooks.
All residents will be assigned a mentor for their research endeavors, including initiatives to improve processes related to patient care, and will meet regularly to review progress. There will be opportunities for residents to research and present material as part of regular Grand Rounds presentations and the biennial HPMG Research and Innovation Symposium (for which they will be required to submit a poster).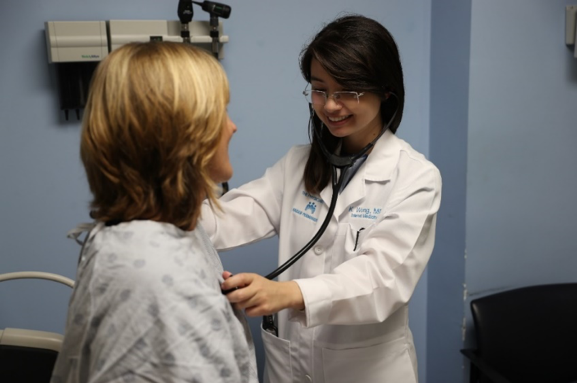 Recent (last 3 years) resident publications as of July 2020
Morisako AK, Tauali'i, Ambrose AJH, and Withy K, "Beyond the Ability to Pay: The Health Status of Native Hawaiians and Other Pacific Islanders in Relationship to Health Insurance," Hawaii J Med Public Health. 2017 Mar;76(3 Suppl 1):36-41
Tamashiro K, Gomes EK, Beckwith NL, Witten NAK, Morisako A, Ka'ahukane LY, Carpenter D, and Kamaka M, "The Pacific Region Indigenous Doctors Congress Medical Student Track Report," Hawaii J Health Soc Welf. 2019 Dec;78(12 Suppl 3):45-51
Ashley, P.A., Moreno, D.A., Yamashita, S.K. Capnocytophaga canimorsus Aortitis in an Immunocompetent Host. Accepted for publication at Hawaii J Health Soc Welf.
Chae, Y; Choi, W; Bae, W; Anker, J; Davis, Andrew; Agte, S; Iams, W; Cruz, M; Matsangou, M; Giles, F. "Overexpression of adhesion molecules and barrier molecules is associated with differential infiltration of immune cells in non-small cell lung cancer", Sci Rep. 2018 Jan 18;8(1):1023. doi: 10.1038/s41598-018-19454-3
Lee, K; Yoo, B; Ahn, S; Bae, W; Lee, H; Jung, S; Lee, S; Park, Y; and Song, J. "Predictors of mortality in autoimmune disease patients with concurrent cytomegalovirus infections detected by quantitative real-time PCR", PLoS One. 2017; Jul 25;12(7):e0181590. doi: 10.1371/journal.pone.0181590.
Byun, S; Bae, W; Jung, S; Lee, S; Park, Y; and Song, J. "Fever as an initial manifestation of spondyloarthritis: a retrospective study", PLoS One. 2017 Sep 14;12(9):e0184323. doi: 10.1371/journal.pone.0184323
Moyer CL, Phillips R, Deek MP, Radwan N, Ross AE, Antonarakis ES, Reyes D, Wright J, Terezakis SA, Song DY, DeVille C, Walsh PC, DeWeese TL, Carducci M, Schaeffer EM, Pienta KJ, Eisenberger M, Tran PT. Stereotactic ablative radiation therapy for oligometastatic prostate cancer delays time to next systemic treatment. World Journal of Urology. 2019; 37, pages2623–2629.
Moyer CL, Johnson S, Klug MS, Burd L. Substance use in pregnant women using the emergency department: under tested and overlooked? Western Journal of Emergency Medicine. 2018;19(3):579-584.
Johnson S, Moyer CL, Klug MS, Burd L. Comparison of alcohol related neurodevelopmental disorder and neurodevelopmental disorder associated with prenatal alcohol exposure diagnostic criteria. Journal of Developmental & Behavioral Pediatrics. 2018 Feb/Mar;39(2):163-167.
Burgos-Sanchez C, Jones NN, Avillion M, Gibson SJ, Patel JA, Neighbors J, Zaghi S, and Camacho M, "Impact of Alcohol Consumption on Snoring and Sleep Apnea: A Systematic Review and Meta-analysis," Otolaryngol Head Neck Surg. 2020 Jun 9;194599820931087. doi: 10.1177/0194599820931087
Neighbors CLP, Noller MW, Song SA, Zaghi S, Neighbors J, Feldman D, Kushida CA, and Camacho M, "Vitamin D and Obstructive Sleep Apnea: A Systematic Review and Meta-analysis" Sleep Med. 2018 Mar;43:100-108. doi: 10.1016/j.sleep.2017.10.016
Wong K, Doong J, Trang T, Joo S, and Chien AL "YouTube Videos on Botulinum Toxin A for Wrinkles: A Useful Resource for Patient Education" Dermatol Surg. 2017 Dec;43(12):1466-1473. doi: 10.1097/DSS.0000000000001242
Recent Faculty Publications as of July 2020
Verhoef PA, Bhavani SV, Carey KA, and Churpek MM "Allergic immune diseases and the risk of mortality among patients hospitalized for acute infection," Crit Care Med 2019; 47(12):1735-1742. doi: 10.1097/CCM.0000000000004020.
Abasiyanik MF, Wolfe K, Phan HV, Lin J, Laxman B, White SR, Verhoef PA, Mutlu GM, Patel BP, and Tay S  "Ultrasensitive digital quantification of cytokines and bacteria predicts septic shock outcomes," Nat Comm. 202011, 2607 https://doi.org/10.1038/s41467-020-16124-9
Remy KE, Lin JC, and Verhoef PA (2020) "High-flow Nasal Cannula May Be No Safer Than Non-Invasive Positive Pressure Ventilation for COVID-19 Patients" Crit Care. 2020 Apr 23; 24(1):169 doi: 10.1186/s13054-020-02892-9
Remy, KE, Verhoef PA, Malone JR, Ruppe MD, Kaselitz TB, Lodeserto F, Hirshberg EL, Slonim A, Dezfulian C (2020) "Caring for Critically Ill Adults with Coronavirus Disease 2019 in a PICU: Recommendations by Dual-Trained Intensivists." Pediatr Crit Care Med. 2020; Jul; 21(7): 607-619. doi: 10.1097/PCC.0000000000002429
Bhavani SV, Huang E, Verhoef PA, and Churpek MM "Novel Temperature Trajectory Subphenotypes in COVID-19", accepted for publication in Chest
Presentations by the residents at regional and national meetings 
Ashley P, Ashley D, and Helman D "Endobronchial Ultrasound in the Diagnosis of a Rare Pulmonary Embolism," Podium presentation at Chest 2019, New Orleans, LA.  
ACP Hawaii 2020 
Bae W, Kinimaka A, Wong K, and Yates J "False Negative Rapid Diagnostic Test in a Returning Traveler with Severe Plasmodium falciparum Malaria", poster presentation 
Chan M, Bae W, Fang Y,  and Hinz R "Acquired Dynamic Subvalvular Stenosis in an Adult: Hyperdynamic TTE Leading to Counterintuitive Management of Cardiogenic Shock", poster presentation 
Kinimaka A, Chan M, Bae W,  and Verhoef PA "Richter Transformation: Judging Between Disease Progression and Transformation," poster presentation 
Neighbors J and Kaya J "Postpartum Minocycline-Induced Eosinophilic Pneumonia with Thyroiditis," poster presentation 
Morisako A, Ashley P, Chan M and Verhoef PA "A Case of GI Bleed Associated with Severe Aortic Stenosis: Beware of what might be Heyde'ing in the Coagulation System", poster presentation 
Song L, Moyer L, Chan M, and Verhoef PA "The Pig Strikes Back: Brucellosis Orchitis in a Wild Pig Knife Hunter," poster presentation 
ACP Hawaii 2019 
Ashley P, Ashley D, and Helman D "Endobronchial Ultrasound in the Diagnosis of a Rare Pulmonary Embolism," poster presentation 
Chan M, Khan S, and Honda S "A Case of Myoepithelial Carcinoma with Diffuse Metastasis: An Unusual Presentation of a Rare Malignancy," poster presentation 
Chen L, Collis O, and Collis TK "Stalking a Killer: Assessing Targets for Predictive Modeling of Liver Cancer Among Patients with Hepatitis C Infection in Hawaii," poster presentation 
Cho J,  Leung CY, and Lee BJ "Takotsubo Cardiomyopathy in Hawaii", poster presentation 
Kim D and Belyea L "The Versatility and Stealth of Klebsiella Pneumoniae", poster presentation 
Kim D, Seto R, Dastur Z, Travis-Moku K, and Kurozawa T "Successful Aging: The Study of Frailty in Kaiser Permanente Hawaii Kai Clinic Seniors Using the FRAIL scale," poster presentation 
Lew H, Yee M, Chan M, Tran S, Dang N, and Tello R "Atrioesophageal Fistula: A Rare and Dangerous Complication of Atrial Fibrillation Catheter Ablation," poster presentation 
Moreno DA, Hinz R and Delneo M "A Case of Acute-on-Chronic Liver Failure in Erythropoietic Protoporphyria", poster presentation 
Oba H and Biggs K "Neurobrucellosis: In the Era of Modern Medicine, History Remains Pivotal," poster presentation