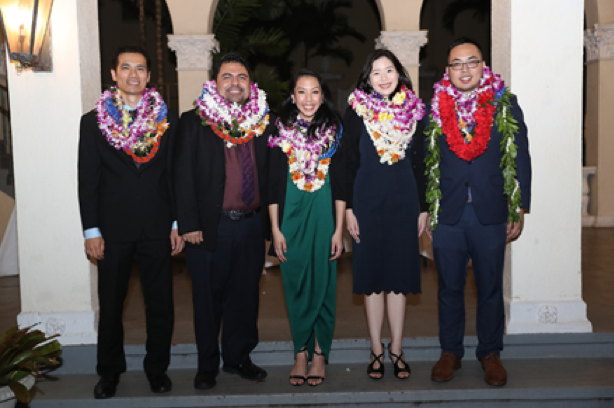 2019 Graduates (From L-R): Li-Hsieh Chen, MD; Dan Moreno, MD; Valynn Pham, MD; Maegan Doi, MD; Henry Lew, MD
The Kaiser Permanente Hawaii Internal Medicine Residency Program celebrated its 2018-2019 academic year with a banquet on May 18 at Café Julia. Mitch Motooka, MD (Program Director, Kaiser Permanente Hawaii Internal Medicine Residency Program) opened the evening by welcoming residents, executive sponsors, faculty, lead teaching attendings, support staff, and guests. After acknowledging the many hands contributing to the program, he called upon Marcus Iwane, MD (Chief, Nanaikeola Clinic and Continuity Clinic Attending) to share the name he selected for the banquet: 'aha puka papahana a'oākauka (To celebrate the transition of our residents to becoming physicians).

The evening continued with a 2018-2019 awards presentation (see below); acknowledgement of Loni Belyea, MD, MBA and Joseph Hong, MD (Outgoing Associate Program Director, Hospital Medicine; and Chief Medical Resident); and a presentation honoring graduates. Dr. Motooka proudly announced that post-graduation, all five graduates would be joining HPMG: Drs. Maegan Doi and Li-Hsieh Chen will be at the Honolulu Medical Office in Primary Care; Drs. Henry Lew and Valynn Pham will be Co-Chief Medical Residents; and Dr. Dan Moreno will be a Pro Tem Provider, Internal Medicine. Congratulations and mahalo to all awardees, graduates, faculty and staff!